The Office of Intercultural Development partnered with Lipscomb's Department of Visual Arts to support students in commemorating Black History Month.
The students' art pieces were featured in the OID lounge. Students created poems and art pieces that included photos from inventor Marie Van Brittan Brown, magazine covers featuring artists and Black Panther film posters.
Last fall, the art department and OID worked together to create posters for the Fall Fiesta. After the success of the event, both departments decided to keep discussing ways they could work together again.
OID Program and Outreach Coordinator Juan Reveles said both departments wanted to have the input from students to create similar work to last fall's art show. After inviting students to participate by providing their own art pieces for Black History Month, students were able to share their artwork with faculty and other students.
Reveles said the partnership between the art department and OID is important in giving students a place where they can express themselves. He added that they want to teach the students the value of artwork.
"It is something for generations we've passed down to those generations that come after us," he said.
He also explained that they wanted to understand a culture in a way other than food, music or entertainment, alongside building other relations with other departments and making sure they know they have a place in the OID.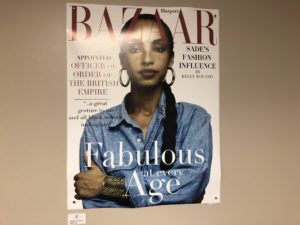 Graphic design student Shadani Fleming presented magazine covers of celebrities from African American descent. These included activist and actress Eartha Kitt and singer Sade Adu. Fleming said she chose to feature celebrities because she wanted to highlight what they're really known for in "a fun and modern way."
Fleming also shared how art has given her the freedom to express how she feels with a pencil or paint rather than with words.
"There is no such thing as good or bad art," Fleming said. "Art is art no matter how you express it or with what materials."
The gallery will continue to feature art pieces regarding the theme for each month. The next gallery, which will be held during the month of March, will be relevant to women's empowerment. The opening day is set for February 28.
Students are welcome to participate and go by the OID to support their fellow Lipscomb students in their art exhibition. The OID is located in the basement of the Student Center.