I have no idea what to wear!
What can I wear to impress them?
I don't have anything!
If these thoughts have come into your head when preparing to go on a first date, then fear no more. I am here to help!
First dates can be nerve-wrecking, and it is crucial to make a long lasting and good first impression. This list is tailored for all men and is so simple and economical for all students.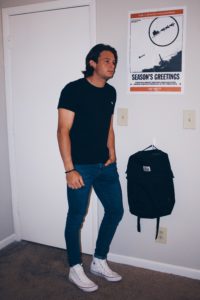 T-Shirt:
Let's start off with the T-shirt.
Simple, classic and timeless. When in doubt, there is nothing wrong with throwing on a plain T-shirt with a pair of jeans and nice shoes.
Neutral colors are the best — stick with your black, whites and greys. Earth tone colors are also trending this season so you might want to explore khaki, olive and tan.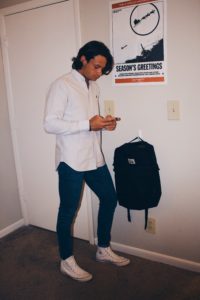 Button-up Shirt:
The classic button-up shirt is the next level up from a T-shirt. It classes it up a bit and makes it more formal.
Shirts are a people pleaser, especially if it is a nice one.
This is definitely a piece of clothing that needs to be invested in — to wear on dates, casual outings and business meetings.
Everyone needs a nice shirt that can be dressed up or down.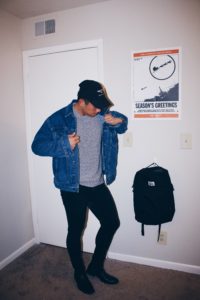 Jacket:
Depending on the weather, you may or may not need a jacket. But it's always cool and handy to have one, especially living in an area with unpredictable weather.
Pictured is me wearing a denim jacket over a grey sweater with black jeans.
Denim, leather or bomber jackets are the three key types of coats, especially on dates in the evening, so that when they get cold, you can swoop in and save the day.
So romantic!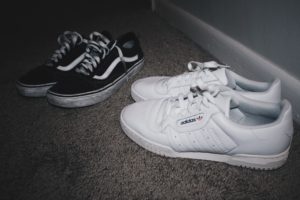 Shoes:
There is a saying that the majority of people pay attention to your shoes the most when looking at appearances.
Pictured are some easy options that are also affordable — white sneakers and classic black vans. Boots are also a classy yet not over-the-top type of vibe that definitely shows you care and tried to be presentable.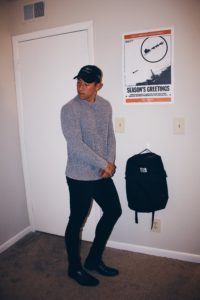 Pants:
When it comes to pants, pairs of black and blue jeans is all you need.
Just make sure they fit well, are not too baggy and compliment the outfit.
The purpose of having blue and black jeans are so you can interchange and mix up numerous outfits.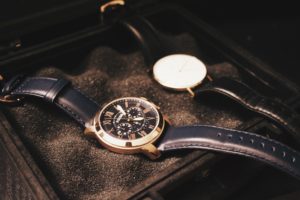 Other:
There is no need to wear too much jewelry — a watch will always be enough.
However, because of high fashion, it is becoming more normal for men to be seen in jewelry, anything from bracelets to necklaces to earrings.
Just make sure not to go over-the-top — remember that simplicity has been the theme!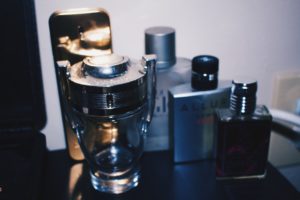 Also, make sure that you are well groomed. That meaning, yes, you need to shower at least once a day and wear deodorant/antiperspirant.
Your date will appreciate you smelling nice.
So wear that nice cologne your parents bought you on your 17th birthday, do your hair and make sure your breath is on point. You know. Just in case….
OK. So you're dressed to the nines, you're clean and more than presentable. What next?
Well, I hope I am not the first to tell you that the most important aspect is not what you wear, but how you display your integrity — through the way you present yourself, act and treat your date.
It is crucial to be a gentlemen, chivalrous and, most importantly, be yourself.
LU's GQ is a men's fashion column by senior George Wong.