The Lipscomb men's basketball team had a chance to earn a return trip to the NCAA tournament if it could win Sunday's ASUN championship game.
But Liberty (28-6) stood in the way, and most of the record crowd of 5,607 in Allen Arena went home in disappointment.
The Flames used a 45-point outburst in the second half to squeeze past the No. 1 Bisons, 74-68. That gave the No. 2 Flames the ASUN championship and an automatic berth to the Big Dance.
"It certainly stings," Lipscomb coach Casey Alexander said. "It's a real privilege to be part of a game like that. I loved the Lipscomb people that showed up and made it a great day for us."
Despite an impressive regular season that included 11 road wins and a No. 42 NET ranking, Lipscomb (25-7) is likely heading to the NIT. Seeds and pairings for both tournaments will be announced next Sunday, March 17.
Liberty forward Scottie James made a layup with 56 seconds remaining to give his team the lead for good, and Georgie Pacheco-Ortiz hit a three on the next possession to extend that advantage to 70-66.
Lipscomb senior Rob Marberry then converted a jumper and drew a foul, but he missed the free throw, and James hit two freebies to ice the title for Liberty.
"They're a resilient team, a tough team," Lipscomb junior Kenny Cooper said. "They know what they're running, and they run it well. Kudos to them for sticking to their plan and pulling it out."
Liberty went on a 9-0 run to end the first half and took a 29-28 lead into the break. That came right after it appeared Lipscomb might build a sizable lead after being up by eight with 6:07 remaining in the first half.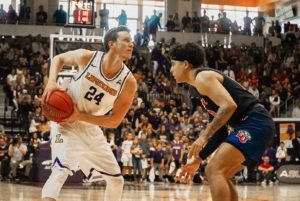 "Those were big moments for [Liberty] to stem the tide and stay right there," Alexander said. "Looking back, that was a pivotal moment in the game where we had great opportunities but didn't convert.
The contest included 23 lead changes and was tight for the entire 40 minutes. Both teams finished with 31 total rebounds and 48 percent in field goals.
"Every time they handed me a stat sheet, the stats were identical," Alexander said. "Twos were the same, threes were the same, free throws were the same, rebounds were the same, assists were the same. But here we are."
The biggest difference was in turnovers — the Bisons had 10, and Liberty had eight. Two of Lipscomb's turnovers came in the final two minutes.
"Neither team could get any separation," Alexander said. "We couldn't get those critical stops when we needed them, and they couldn't either. Time ran out. Who knows what would have happened if there was another minute to go in the game."
Lipscomb guard Garrison Mathews led all scorers with 21 points. Marberry (18) and Cooper (14) also finished in double figures for the Bisons.
The Flames were led by four double-digit scorers, including James (17), Pacheco-Ortiz (16), Cabbil (14) and Caleb Homesley (11).
Photos by McKenzi Harris