It's been nearly 20 months since Nathan Moran has appeared in a basketball game for the Lipscomb Bisons.
The team won its first-ever ASUN tournament title and made its first NCAA tournament appearance while Moran rode the bench as a redshirt last season.
But that certainly wasn't by choice. The former walk-on has dealt with injuries throughout his career, and he discovered after his junior season that he had torn labrums in both hips.
To make matters worse, Moran's right hip also required microfracture surgery.
"The cartridge had peeled off, so they had to drill holes in my bone," Moran said of his right hip. "That was a super long recovery and it was very painful. When I thought I was getting back, I wasn't [healthy], which was stressful."
After a lengthy recovery, the sharpshooter is finally ready to get back on the court. He is expected to play in Lipscomb's opener against Sewanee on Tuesday.
"I'm close to 100 percent," he said. "I've had some good weeks and some bad weeks. I'm feeling good right now at the right time."
Moran's ball-handling and shooting were sorely missed last season, according to Lipscomb coach Casey Alexander.
"I think we were lucky to survive without him because he means that much to our team," Alexander said. "In that sense, it's great to have him back."
Moran returned to practice in January, but his lack of lateral mobility at the time made a midseason return impossible. He then took a redshirt season to salvage his final year of eligibility.
"We thought that if I didn't have microfracture [surgery] on my right [hip], I was going to be able to play," Moran said. "But everything went wrong during the recovery. My groin, hip flexor and knees started hurting because I was compensating."
The Franklin native began his Lipscomb career as a walk-on before quickly blossoming into a key contributor. Moran has compiled 982 career points in 92 games, while shooting 38 percent from beyond the arc. He also has 357 career assists and 91 steals.
"I've always believed in myself," he said. "I'm smaller than most people, so I've always thought I had to work harder and harder and harder."
Despite a stellar high school career at Battle Ground Academy, Moran received little interest from Division I schools. A few programs offered preferred walk-on spots with the potential to earn a scholarship later, but Moran was wary of what he believed to be false promises.
The 5-foot-10 guard was set to commit to Division-III Birmingham Southern during the spring of 2014 when he received a well-timed phone call from Alexander.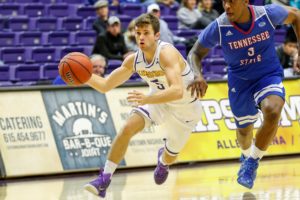 "I was walking to the gym to commit [to Birmingham Southern], and coach Casey calls me," Moran said. "He was like, 'Hey, what are you doing?'
"I said, 'Uh, nothing.'"
Alexander then asked Moran to come visit Lipscomb for a second time and go through an on-court workout. The Bisons coach couldn't make any scholarship guarantees, but he wanted to see Moran in person one more time.
"I ended playing pretty well and went into Coach's office [afterward]," Moran said.
"If I was betting man, I'd say you'd get a scholarship," Alexander told Moran during the meeting.
"I'm going to be honest Coach, I've heard that enough," Moran replied. "I'm going to commit to Birmingham Southern."
But Alexander suggested that Moran wait on that decision. The very next day, the Lipscomb coach texted Moran to guarantee three scholarship years after being a freshman walk-on for the 2014-15 season.
"I called my mom and said, 'yeah Mom, I'm going to Lipscomb!'" Moran said. "Between the Christian aspect [of the school] and everything, this was a God thing to get me here."
Moran quite literally pushed his body to the limit to earn his keep. In addition to his hip surgeries, he also tore the labrum in his right shoulder during the 2015-16 season, leaving the labrum in his left shoulder as his lone labrum that hasn't been surgically repaired.
"We're just not going to get that one checked," he said with a laugh.
Now, as a fifth-year senior, Moran wants to experience another tournament run, and he hopes to be on the court this time around.
"I'm not going to sit here and act like it wasn't hard, because it was one of the hardest things I've gone through, especially after playing for three years and having a lifelong dream of playing in March Madness," he said.
Outside of Moran and his family, perhaps no one is more excited about his return than Alexander, who believed in him when most college coaches did not.
"It's a great story," Alexander said. "We wanted him here because we knew he was a winner and a competitor. Our team desperately needed that at the time, and he's done way more than deliver."
Photos courtesy of Lipscomb Athletics