The following is a biweekly fashion column, complemented by George Wong's column LU's GQ.
The weather yesterday was so beautiful and gave me hope for a gorgeous, sunny spring ahead!
With the warming temperatures (which will hopefully stick around soon instead of just coming every once in a while!) starting to make appearances again, we can finally begin to put away the chunky sweaters and warm boots in exchange for more springy pieces.
With that being said, here are some pieces that can be great transitions into spring.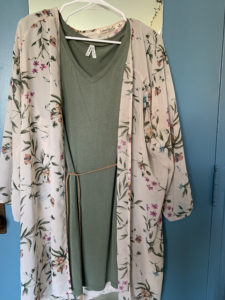 Floral anything
I absolutely love most floral prints and wear them all year round, but they're especially good for spring. They go with the fresh, new vibe that the season brings and are perfect for matching the stunning flowers that will soon bloom. One of my favorite pieces that I have is a thin floral kimono. There are so many colors in it, which provides numerous outfit options. I can pair it with multiple different tops and even solid colored dresses. In addition to the kimono, I own several floral tops and dresses. I find the patterns flirty, fun and calming, and I think that goes along with the season.
I have always been a skinny jean girl, but recently I have gotten into wearing other kinds of jeans, too! My favorite pair is a boyfriend cut pair with roses embroidered up the sides. I love pairing them with a solid red top and hoop earrings for a bright look.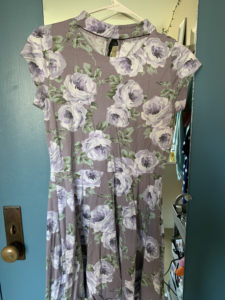 Short sleeve dresses!
My favorite thing to wear! I love the light, airy feeling of them and the ability to feel comfortable at the same time. They're so easy to throw on before class instead of having to plan an entire outfit, and they work for everything from class to work to a night out. In addition to their comfort, there are so many patterns and prints that you can find short sleeve dresses in. I'm personally a fan of floral prints and striped prints, but there is something out there for each of you.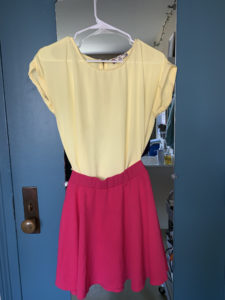 Bright colors
Spring is known for pastel greens, purples, yellows and pinks; and while I love those colors, I think bright ones can also be great for this sunny season. Consider pairing a pastel top with a bright skirt or a bright top with pastel pants to play off one another. I think that bold greens, pinks and oranges would be fun to pair with a softer pastel.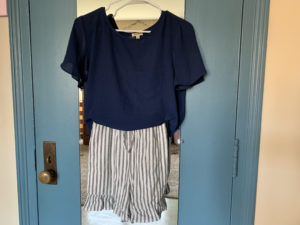 Fun shorts
For the past few years, light, flowy shorts have been trending, but I think that they deserve some more attention. They are perfect for the warm weather of spring and summer and are another cute, comfortable option.
Additionally, like skirts and dresses, there are a variety of prints and patterns, so there are options for all. LOFT currently has some adorable shorts that would be perfect for spring. They have navy flowy linen drawstring shorts with an adorable pink pattern on them, as well as super cute scalloped shorts in blue, gray and red.
Because of the variety with these colors, there are numerous choices for pairing them with a top: a simple white tee could be really cute with them, or you can dress them up with a nicer printed or colored top.
Sanuk sandals
I have tried these, and they are so incredibly comfortable! In addition to the comfort of literally walking around with yoga mats under your feet, the Sanuk Yoga Sling shoes come in a variety of patterns. I am a fan of the multicolored pairs since they can be paired with so much. They do have plain black sling shoes, as well as gray and black-and-white. Once again, the wide variety provides options for each client to choose the pair that they like the best.
I don't know about you, but I am so excited for spring and the warm weather to come! I love being out in the sun and letting my outfit reflect that. With these trends and tips, I hope you're able to find some inspiration for new springlike outfits, too, whether you buy new clothes or combine unlikely pieces that you already have. Whatever you decide to do, have fun with it, and always remember to stay fabulous.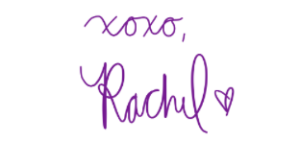 Photos by author