Over the years, Lipscomb has had different pizzerias to satisfy the students and faculty on campus who cannot imagine life without the delicious Italian creation.
In the past, it was Pizza Hut and then Papa John's that held this special place on campus, but now the pizza baton is being passed on to the newest dining experience—Pie on the Fly. With a name that advertises speed and the classic Americanized Italian dish, I took it within my pizza-holding hands to try it for myself and see if it was what it advertised to be.
It was lunch rush on Wednesday when I first tried Pie on the Fly. I awkwardly stood in line, my stomach growling for food as I pondered the menu.
Thankfully, the menu was straightforward, having a make-your-own pizza with many options of toppings for the creatives out there. It also had a few classics to choose from, and then if any of you are one of those sacrilegious haters of pizza, there are even a few pasta options.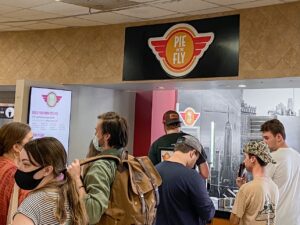 The line was long, so I had plenty of time to talk to the others who were before me. Haley H. and Kelli D., two nursing students, have been to Pie on the Fly before, both getting the pepperoni pizza. Kelli liked the soft crust and the freshness the pizza had, while Haley said she thought the sauce was good, though she mentioned that she missed Papa John's.
Funnily enough, Ethan F., a corporate finance senior, also brought up Papa John's. Ethan said that he liked how personalized the pizza is at Pie on the Fly and that it was different than Papa John's. And being a fan of white sauce, his go-to this time was the Bianco (an alfredo sauce pizza with chicken, parmesan, feta and basil).
Once I got to place my order, I asked what the most popular pizzas wer,e and it was either the Mega Meat or the Margherita (one for meat lovers and one for not). I got the Margherita on Wednesday and returned the following day to try the Meat Lovers (thankfully it was a lot less busy).
My assessment of the Margherita was that it needed more salt and flavoring than just oil and basil, but it is also known as a traditionally basic pizza, so I will let that aspect slide (especially since my pizza was shaped like the Millennium Falcon).
The Mega Meat was a lot better in my opinion, being very flavorful and meaty (my type of pizza). My biggest concern was how both times I got pizza here on different days, the crust was unevenly cooked. The middle was more on the raw side of things, and the outer edge was slightly burnt.
I sat down by some other pizza eaters to ask them how they liked their pies before I tried my own. Zach K., an environmental science major, had the Mega Meat and he said the perfect word for the pizza was, I quote:"bussin'."
But his friends, Hank A., and Trevor R., both had less-than-stellar reviews. Hank, a finance major, said his Margherita was "subpar" and "not worth the money" due to lacking ingredients.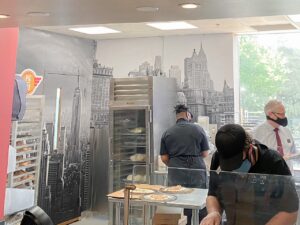 And Trevor, a student in accounting, said they messed up his order, so it was not as good as it could have been.
On my way out, I spotted Bethany Perala, faculty member of the Office of Advancement, about the dig into her pizza. Naturally, I walked over to ask if I could document her review.
She had a make-your-own chicken pizza with feta, tomatoes and basil on top of the regular mozzarella and marinara provided. Bethany said that it was good and that she would eat it again.
She then revealed that she had been at Lipscomb for all three reigns of pizzerias, saying that Pie on the Fly ranked as the best of all three. And since she is a seasoned Lipscomb pizzeria veteran, I gladly took her advice.
As you can see, there is a wide range of different views on Pizza on the Fly, including good and not-so-good. My review is that it is fast, and it is pizza, so as far as that goes, it was exactly what it was advertising. I feel it could be better in some ways (more staff to help with the line and better settings on the pizza ovens), but I honestly recommend just trying it for yourself!
$6.99 for a personal pizza-pie is not bad and there is no better critic for food than your own tastebuds, so give it a try and form your own opinion on it. Overall, I would say the pie is pretty fly!
Photos by Author