Former Lipscomb soccer standout Ivan Sakou is hoping his foot skills – not his math skills – help him get a job soon.
The Cameroon native is spending the summer playing for Inter Nashville FC, a National Premier Soccer League team based at the International Indoor Soccer Complex in Antioch. He'll then return to school this fall to complete his degree in mechanical engineering.
Sakou leads the team with eight goals and said he is enjoying playing in the NPSL, which is widely considered to be part of the fourth tier of American soccer.
"This season has been up and down," Sakou said. "NPSL teams have a lot of guys coming in and out, and I think that's affected us a lot. But we're on an upward slope."
He first landed at Western Nebraska Community College in 2014 and then transferred to VCU for the 2015 season, before playing his final two years at Lipscomb. Sakou finished his college career with 30 total goals and 14 assists, and he was named MVP of the 2017 ASUN tournament, which Lipscomb won w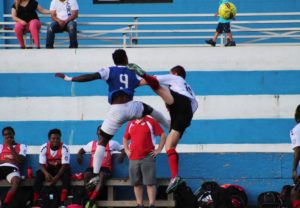 ith a 2-1 victory over Jacksonville.
Not bad for a guy who came to the United States to focus on school, not soccer.
"Coming from Cameroon, I didn't think I would have this many opportunities to play soccer," he said. "I came to the U.S. to study more than anything else. But I'm thankful for the opportunity to keep playing."
Along with former Bison teammates Ivan Alvarado and Eduardo Reza, Sakou was a trialist for the USL's Nashville SC in a friendly match against his former Lipscomb team on March 1.
"It felt awkward to play against my former teammates," Sakou said. "But playing with the pro team was really nice. It was a huge change of pace from college soccer."
Alvarado (Texas United) and Reza (Colorado Rapids U23) are now both playing in the Premier Development League, which offers a level of play similar to the NPSL.
Meanwhile, Nashville SC recently loaned four players – Ian McGrath, Jordan Dunstan, Michael DeGraffenreidt and Ramone Howell – to Inter Nashville FC for development purposes. As part of the partnership, Sakou has been invited to participate in several more Nashville SC practices.
"I'm trying to get looked at by different teams, right now it's mostly been Nashville SC," Sakou said. "Hopefully my performance in the NPSL will get my name out there so I can get a (pro) contract."
Sakou is working a part-time job on campus and will graduate in December. After that, he'll be free to attempt to secure professional tryouts in the United States or elsewhere.
"The plan is to finish my degree and then look for some tryouts in the USL," Sakou said. "If it doesn't work here, I'm thinking of going overseas to play. Maybe Northern Europe, Asia or South America – I'm not quite sure yet."
For now, Sakou is focused on leading his squad to to the NPSL playoffs. Inter Nashville FC (5-5-2) currently sits in fourth place in the Southeast Conference standings, and it must finish in the top six to make the playoffs.
The team has two regular season games remaining, including a match at Chattanooga FC on July 4 and a home match against Greenville FC on July 7.
Sakou may not have chosen the easiest path, but he believes he's set up for success. Even if pro soccer doesn't work out, he'll have his engineering degree to fall back on.
"That's why it's taking me five years," Sakou said with a laugh. "It's been tough studying mechanical engineering and playing soccer. It's been hard, but it was worth it."