Full calendar of upcoming fall events below.
With the fall semester quickly approaching, Lipscomb University's student life team is busy planning events for the students' arrival.
Louis Nelms, director of student involvement, said he is ready for students to get back on campus.
"One thing things students should be really excited about is the cafeteria renovations," Nelms said. "The ice cream station has moved, and we are opening up a really cool patio space."
This new space will allow students a larger outdoor eating and "hang-out" environment. Nelms said the student life office is looking forward to hosting several events in this new space.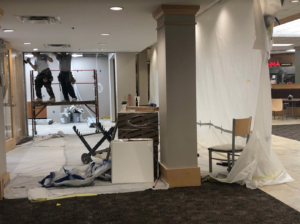 Nelms added that he is proud to announce one of the newest additions coming to the Bennett Campus Center. Lipscomb is introducing the new restaurant Creekside Burgers & Shakes to replace Far East Fusion in the student center.
"We are sad to see Far East Fushion go," Nelms said, "but are excited for a brand new eatery."
Another big announcement is the Parking Partner Program for commuter students. This program will allow students the ability to park at Woodmont Hills Church of Christ and take the shuttle to campus. Every time a student does this five times, they will receive the perk of three FREE meals from the cafeteria.
Every Thursday night beginning August 23rd until October 11, Maggie Moo's ice cream will be giving out free ice cream in the square at 9:30 p.m. to all university students. High Rise will also still be hosting "Wednesday Nights We Eat" every Wednesday evening at 10 p.m.
Below is a full list of events happening this semester with dates and times included:
August
Aug. 20th: 1st Day Back to School! Welcome Back BBQ & Church Fair in Bison Square at 4:30 p.m.

Aug. 23rd: Greek Life Rush Fair

Aug. 24th: Bison Soccer vs. Belmont SAB Tailgate

Aug. 25th: Lipscomb Luau at the Elam Volleyball Court at 3 p.m.

Aug. 31st – Sep. 3rd: Spiritual Life Retreat
September
Sep. 1st: College Football Kickoff

Sep. 6th: Greek Life Worship Night

Sep. 7th: Greek Life Bid Night

Sep. 8th: Bell Tower Social at 9 p.m.

Sep. 7th- Sep. 15th: Greek Life New Member Orientation Week

Sep. 15th: Above All Extreme Air Sports 11 p.m. – 1 a.m.

Sep. 21st: SAB Bowling Night at Tusculum Strike & Spare 11 p.m. – 1 a.m.

Sep. 28th: Swing in the Square at 7 p.m.
October
Oct. 2nd: Lipscomb University Founders Day

Oct. 5th: Family Weekend Kicks Off with Family Game Night

Oct. 6th: Tau Phi Cowboy Show

Oct. 12th: Brickyard Basketball in Bison Square at 7 p.m.

Oct. 13th: Bell Tower Social at 9 p.m.

Oct. 19th – Oct. 21st: Fall Break
November
Nov. 2nd: SAB Dodgeball Tournament

Nov. 3rd: Bell Tower Social at 9 p.m.

Nov. 9th: Homecoming Weekend

Nov. 12th: Stomp Fest

Nov. 15th: Fantastic Beasts

Nov. 18th – Nov. 24th: Thanksgiving Break

Nov. 27th: Lighting of the Green
December
Featured image courtesy of student life