KENNESAW, Ga. – The 2018-19 season continues to be tough sledding for the Lipscomb women's basketball team.
Despite a win over Jacksonville last Saturday and a narrow loss to Liberty on Tuesday, the Lady Bisons regressed Saturday afternoon in a 67-36 blowout loss at Kennesaw State.
"I did not see this coming," Lipscomb coach Greg Brown said. "I liked what we had done over the last few weeks. We had two very good days off practice [after losing to Liberty]."
The Lady Bisons (3-22, 1-11 ASUN) committed 24 turnovers and shot just 23 percent (13-of-57) from the floor. Kennesaw State took full advantage by scoring 26 of its 67 points off turnovers.
"The missed shots, especially when you miss shots in the paint, mess up your transition getting back [on defense]," Brown said. "When you have 24 turnovers and shoot 23 percent, it's going to be tough."
The Owls led 28-18 at halftime but used a 12-0 run to start the third quarter to pull away from the Lady Bisons. Kamiyah Street had a game-high 25 points for Kennesaw State and routinely burned Lipscomb's defense on fast breaks. Owl guard Amani Johnson also had 16 points.
"I just tell them to put energy and emotion toward things you can control," Brown said. "We've done a good job of that, for the most part. But we did not do a good job of that today."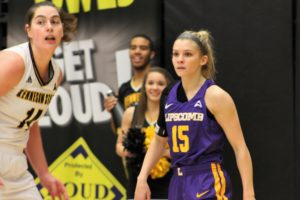 Lipscomb freshman Keely Morrow was a bright spot. The forward followed up her 22-point performance at Liberty with a team-high 17 points and seven rebounds.
"Keely's had a great few weeks," Brown said. "Things are starting to click for her. That's part of the maturity process – she's done a great job maturing this year."
Another positive for Lipscomb was the return of sophomore forward Taylor Clark, who had missed the last four games with an injury. She finished with three points and three rebounds in 20 minutes played.
Kennesaw State (7-17, 3-9 ASUN) used the win to climb to seventh in the ASUN standings. Only the top eight teams will qualify for the ASUN tournament, which begins March 8.
Lipscomb sits in ninth place after losing 21 of its last 22 games. The Lady Bisons have four regular season games remaining, and they will rematch with Kennesaw State for the season finale on March 5 in Nashville.
"Everybody's playing for those seventh and eighth spots right now," Brown said. "You beat Kennesaw, do a few other things, and you've got a chance to do something in the [ASUN] tournament."
The Lady Bisons will host Florida Gulf Coast Tuesday night at Allen Arena. Tipoff is set for 6:30 p.m. CT.
Photos by author