Women today are shattering glass ceilings, chasing dreams and looking to accomplish more than ever before. Leah Gwin is no exception.
The 2016 Lipscomb alumna graduated with a degree in digital marketing and international business and has since found success at Lyft's Nashville headquarters and Inflammo, a local startup.
Gwin aims to be a leader in the workforce and to blaze a trail for women seeking equality while there. She said she hopes her efforts will one day encourage other women to actively pursue leadership positions as well.
"I'd love to see women continuing to step up into leadership positions," Gwin said. "Whether it is in business, at church, in politics, at school or at non-profits, I really hope to see the trend continue of women wanting to lead others and have an influence on the disparity in equality we have currently."
Nevertheless, Gwin also noted that she is aware of the trials she faces as a female in the business world.
"From working while pregnant to getting behind while on maternity leave to attempting to master work-life balance to most likely coming back to work and making less than my male counterparts, I know that will most likely be one of the most difficult challenges I will have as a woman in business," Gwin said.
Despite these challenges, Gwin is an optimist, citing the phrase "stay amazed" as her life motto.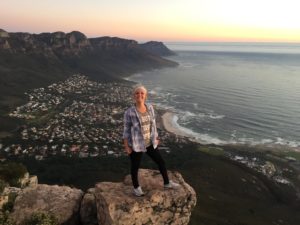 "I want to constantly remind myself to be in awe of the beauty of life around me," she said. "This mindset keeps me thankful, humble, excited and awake to the wonderful life around me."
Gwin uses this positivity to inspire those around her. She believes in the strength and intuition of girls; she believes young girls should be fed less compliments on their looks and more compliments on their minds, and she sees worth as coming from within. She particularly recognizes the search for external worth in the southern cultural.
"I see so many women searching for their worth in having a boyfriend, fiancé or husband, and then trying to serve them like a Proverbs 31 woman," Gwin said. "I hope that southern women can catch on and find their own worth in themselves instead of searching for it in a man."
This story is the sixth feature in Jade Spilka's "Women of Lipscomb" series, in light of Women's Empowerment Week