The 56th annual Singarama wrapped up Saturday evening, with the coveted Sweepstakes awarded to "The Wonder Years."
The Sweepstakes award represents a fourth win for "The Wonder Years" after consecutively winning all three other awards for Theme, Music and Staging. The winning group was comprised of the social clubs Phi Sigma, Theta Psi and Kappa Chi, as well as several "friends."
"The Wonder Years" tells the tale of "most responsible child" Andrew Foster, played by Dane Mortensen. After his parents leave for a "business trip," Andrew's "Glammy" whisks him and his two younger siblings away to a weekend biblical retreat.
"It just means that even in times when there's unknown and there's wonder to be had in life, life can still be wonderful," director Myron Sailors said on the meaning behind the show. "There's no reason to stress about not knowing what's coming next because that's just part of life."
Months of preparation went into the mini-musical. Sailors spoke on how highly he valued the work put in by the production team and cast.
"My production team that was right there with me through it all and my cast that was just so encouraging and worked so hard…Without them, none of this would have happened."
This year's performances were hosted by Berkley Boglin, Luke Howard, Hudson Parker, Peytan Porter, Alexa Williams and Brittney Wood.
The group preformed various songs between productions such as "Bring the Family," "You are the Reason," "Family is Family," "Ladies in the 90's" and "Baby."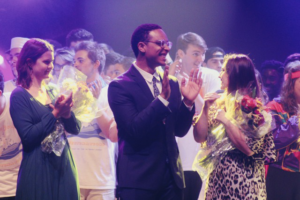 The night opened up with the production of "The Good Times," which follows Rachel, played by Diana Dockery, and her reunion with old friends after returning to work at her college waitressing job.
Directed by Amy Hurd, the show featured members of social clubs Gamma Lambda, Pi Delta, Sigma Alpha, Tau Phi, Sigma Omega Sigma and "friends."
"Perfect Strangers" closed the evening by chronicling the vacation of "angsty teen" Caleb and "perfectionist" Robin, played by Kody Smith and Abby Allgood.
Directed by Tori Thurmond, the production of "Perfect Strangers" was put on by social clubs Alpha Zeta, Delta Omega, Phi Nu, Sigma Iota Delta and "Friends."
Headline photo by Ben Davis; second photo by author