Eight hundred and thirty-seven miles. Thirteen hours. Nineteen students. A 32-point lead. A 27-point comeback. One berth in the NCAA Tournament. This is the story of the group that watched Lipscomb cut down the nets for the first time—in their own words.
Josh Roberts, Dean of Student Development: Late Thursday night, when we won the semifinal game, there was a tremendous amount of discussions between the President's Office, Athletics and Student Life, trying to find ways to have a Bison presence at the game.
Garret Jones, junior RA: Garner Goode and I talked about doing something like this in the fall. Specifically, because I am in Res. Life, and I was like 'How can we get Res. Life and the student body, through Res. Life, more integrated with our student athletes?' And so, ultimately this was one of those ways.
Roberts: It all happened fast but was also very well planned. We were up in the early morning hours of Friday morning discussing and trying to debate what route we should take.
Luke Shoulders, sophomore: Garret and I were talking for a while. He honestly convinced me to go to the game, because if we're going to be honest I was worried about missing Singarama practice and couple's dance, because I really wanted to do it this year.
Lorne Jaques, senior: I'm a senior and my thinking was, not only is this potentially the last basketball game I'll ever go to as a college student, but this is a once in a lifetime opportunity.
Shoulders: I really needed a break, and what better way to get a break than going to the ASUN Conference finals. That'd be so much fun. So he talked me into it.
Students paid $50 apiece to ride the bus. Most of them weren't acquainted.
Shoulders: I knew of everybody, but I didn't know everybody. I knew probably about four or five guys pretty well.
Carli Anderson, junior volleyball player: I didn't really know anyone except my volleyball team, the four girls that went for volleyball, but everyone was pretty quickly talking to each other and introducing ourselves.
Jaques: It was a weird hodgepodge of people. Four girls from the women's volleyball team, five RA's I think, a couple girls from Phi Nu, a couple of other things.
Anderson: By the time we stopped in Atlanta for food, we all were joking around, laughing with each other, pretty much knew everyone by name.
Jaques: Because so few people on the bus knew each other within the different groups that were there, we spent a lot of time just getting to know each other. Also, us guys spent a lot of time being idiots.
Shoulders: I am a good sleeper so I slept most of the bus ride down. But it was really fun other than that, when I wasn't sleeping. You're road tripping with a bunch of people from college, you all have similar experiences and you're all wanting to go cheer on the Bisons. We're coming up with ideas of what we want to say at the game, coming up with ideas for posters all the way down, it was really fun.
Jaques: We also tried doing BusFit, which is like CrossFit but on a bus.
Anderson: The guys were seeing how long they could hang from the sides of the bus, they were doing pushups . . . We all hopped into a relationship pretty fast with each other.
Jaques: We had a blast, honestly.
The caravan spent the night in Gainesville, Fla., three hours from Fort Myers. The next morning, the group assembled for lunch and final preparations.
Anderson: We had this whole section of a restaurant reserved for Lipscomb fans. Alumni were there, we were there, cheerleaders were there . . .
Roberts: Luke and Garret and Lorne, they really helped lead the charge in terms of creativity. The girls—Carli was one of the leaders—they added some refinement to things. They nailed posters, they were really fantastic about making sure everybody had on purple.
Anderson: We were making signs, we were cheering, we got the bartenders and waitresses cheering for us, it was just a very hype environment. The guys were outside painting up, we already started talking trash with each other, just a very positive, exciting environment.
Jones: The fact that we were there in Florida for the conference championship, that was a dream come true for me.
Anderson: We were all there together at 11:30 and got to the arena about 2:30 for tipoff. By the time we got to the arena,, it was already packed with people.
Jaques: From the moment we stepped out of the vans in front of their arena we were screaming, holding up signs and yelling, having a blast, and we just continued doing that to another extent.
Shoulders: It was like a dream in the first half. It couldn't be any more perfect.
Jones: I was like, 'Wow, this is crazy, like what is happening?!'
Anderson: We were sweating, and it was cold in the arena; it wasn't hot by any means, but we were so into it. It was, I guess, overwhelming is a good word. Unexpected. It caught us off guard that we came out like that.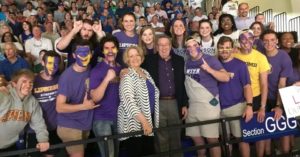 Shoulders: I was honestly in shock because I did not expect us to shoot that well.
Jaques: We trashed them. On top of that, not only were we thrashing them, but you could tell their fans were getting demoralized, and it just poured gasoline on the fire of us being stoked to be there already.
Shoulders: We were just stunning the crowd. They could hear the 18 of us cheering across the entire arena, which I thought was really funny because there were only 18 of us and they put us in the back section of the crowd. (Editor's note: 19 students attended the game)
Anderson: One of my favorite things I'll always remember is these little FGCU old ladies who were directing people to their seats. They had us all the way up in the corner. So we're all standing up, and there are still people behind us. They were complaining that they can't see, like, 'We can't see because of your students,' yelling at us.
Roberts: When we arrived at the game, they had put us in what essentially was the stadium annex on the other side of the concourse. It was a section of all bleacher seating that was full of older fans and families with young children, so it was a very calm and docile place.
Shoulders: They were sweet ladies. They were just trying to do their job. They came up and they were begging us to sit down. They were getting frustrated because we weren't sitting down, because I didn't ride on a bus 13 hours to sit down.
Roberts: It reached the point where athletic director Philip Hutcheson came up and gave all the students a big pep rally and said, 'Guys, make them pay for assigning this as our student section.' We all huddled up together and we talked about how we were going to have to be louder, since we were further away from our team than the Gulf Coast section was from theirs. And the people sitting around us in our section did not appreciate the level of enthusiasm that we brought. There were a lot of grown men and grown women yelling at our students to sit down, to not stomp, to put down their signs. We had several different conversations with those individuals saying, 'If you have an issue, you can take it up with Florida Gulf Coast's athletic director. That's the individual that assigned this section.'
Jones: She would not stop, she was so persistent, and we as students were persistent, but she wasn't listening to us. It didn't seem like she had much respect for us as a student section, as fans who wanted to support our team with as much energy as possible.
Roberts: I explained to the event staff that this was our student section, and we would abide by the same rules that the Florida Gulf Coast student section was abiding by. And that meant that if they arranged for every single Florida Gulf Coast student to sit down, then we would consider sitting down, and that was a fun moment.
Jones: She kind of took that with a little more weight, as opposed to Luke Shoulders or myself talking with these older ladies, when they don't think that us, as young adults, really mean much.
Roberts: But that did not keep them at bay for very long. The event staff came back, and they were yelling and using some very disrespectful tones to our students and telling them that they had to stop cheering. I explained that the event staff was harassing our students and that I didn't want them to speak to our students any more.
Jaques: The moment that guy pushed his way through three rows of our students and talks to the usher and says, 'Ma'am, I need you to stop harassing our students,' that's when I was like, 'I love this man.' I couldn't be more thankful for him right now.
Roberts: We were not going to let employees of Gulf Coast ruin this experience for us.
Shoulders: Ironically I had a shirt on that said 'Stand with Us.'
Anderson: It was cool getting to know Sam and Josh from a different angle. People are supposed to be scared of them and they really are awesome and very giving. They're fun. Outside of their job, they're so much fun. They were ride or die, ready to fight for us throughout that entire game.
Jones: I don't think I had ever seen Josh without a collared shirt on, so that was cool.
The Bisons led 60-31 at the half, good for their highest-scoring half on the year. The game appeared to be over.
Roberts: At halftime, we all got together and stuck our heads in—the arena was loud—so we stuck our heads together and said we've done it the right way for the first half. We're gonna finish this out the right way.
Jones: At halftime, fans from FGCU were coming up to us and were like, 'You guys played a great game, this one's over, in the bag. We will be cheering for you in the tournament.' And we were like, 'This isn't over, we can't take on that mindset.'
Jaques: Just a couple minutes into the second half, we started realizing that this isn't going quite the way we wanted it to.
Anderson: We were not scoring in the second half.
Jaques: Their crowd had been absolutely silent for the entire first half. Understandably so. But after the second or third three that just swooshed right in, the next time they scored a point, their entire arena got on their feet and started screaming.
Anderson: We just felt a change when we couldn't stop them.
Shoulders: I'm worried about five minutes in when we're up by 22, and the place is actually shaking because momentum has shifted by that point, and they're starting to feel like OK, we can come back.
Anderson: They were down 20, and if they made a three, it was hurt-your-ears loud.
Jaques: Me, Sam Smith and Luke Shoulders started yelling at people, like, 'Hey, as much as this sucks, we need to just keep yelling, keep being loud. We gave the guys energy in the first half, at least we hope we did, and we need to do that even more in the second half now that they're struggling.'
Jones: If we don't expect them to give up, then we can't give up either; we need to keep cheering.
Shoulders: The music was intensified and literally all these 50-plus old people—people above the age of 50—and their student section was just going crazy. I'm like, 'OK, I'm a little bit nervous,' and we couldn't dribble the ball past half court. I was like, 'I don't know about this.'
Anderson: That was pretty awesome how their crowd maintained that level of hope. And it almost worked for them. They got it down to a five-point lead.
Jones: As the clock started winding down, it's like, 'Wow, there's still six minutes left; there's a lot that can happen, and they're still coming back.' But then, it's like, 'Wow, four minutes came by really quickly, and two minutes came by really quickly.'
Jaques: I told Garret, who was next to me, to start the 'I believe that we will win' chant from soccer. He started to do it, but Luke Shoulders was like, 'No, we can't do that yet, because we don't know if we're going to win.'
Roberts: There was a moment with about a minute and a half left when the Florida Gulf Coast season ticket holders started to leave the arena.
Jaques: When their fans started leaving, that's when Luke leaned over and said, 'If Garret wants to do that chant now, we're fine.'
Anderson: They kept fouling. I remember seeing Kenny walk back to the free throw line each time he got fouled, smiling really big. All of us were looking at each other like, 'We got this.'
Jaques: At that moment, I was like, 'OK, they've seen these guys play all season. They know when they're not going to be able to come back.
Jones: We didn't breathe. We didn't breathe until it was over. Because there was so much anticipation.
Shoulders: Matt Rose has the ball, and he's dribbling towards our sideline. Kenny and him were both pumping up the crowd, our little bitty student section up there, in front of all those Florida Gulf Coast fans leaving.
Jones: Until Kenny finally dribbled that last little bit and looked towards us and gave a wave, looked toward their student section and pounded his chest and then turned towards his team and just went nuts, that is when we breathed.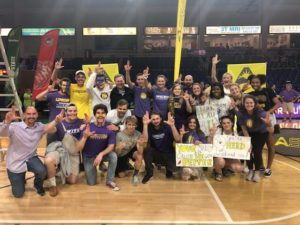 The Bisons managed not to collapse and pulled out a 108-96 victory, punching Lipscomb's ticket to the Big Dance. The Lipscomb student section charged the court.<
Jaques: I had my shirt stuck in my back pocket. When the game ended and we rushed the court, either an FGCU fan stole my shirt or I lost it, so I get down to the court and realize I don't have a shirt.
Anderson: Rob came up to me hugging me and crying. Seeing the emotion out of these guys, it was well-deserved. I know what it feels like, and it's just awesome for them that they get to feel that now too.
Roberts: Being on the floor and watching our players, who had been on the biggest emotional rollercoaster of their life, first hug each other, and then hug their coach, and then hug their parents, and then start embracing Lipscomb students, many of whom they've never met before, but so proud that they got to share that with our student body . . . that was such a cool thing.
Jones: At the very end when they were cutting the nets, seeing Coach Casey clip the final bit of that and just get fricking pumped and swing it around–seeing the passion he has for it, and not any sort of anger or frustration with the team . . . He embodied pure joy.
It was over. Roberts and Smith took the students to see Black Panther—thanks to bus regulations, the driver had to be off the road for eight hours before they could head back to Nashville.
Anderson: We stayed up until we saw ESPN talk about it. It was 30 or 45 minutes into the bus ride that ESPN finally covered the game, and we were all cheering really loud. By this time it was 12:00 at night. And then we fell asleep.
Shoulders: It was a relief. I would've felt like it would have been a lot longer if we had lost that 32-point lead and lost the game.
Roberts: When our students got on the bus, we hadn't told them where they'd spend the night, what hotel they'd be in; we couldn't give them precise confirmation on exactly when we'd be back to campus . . . it was absolutely incredible, the faith that they had that this would be an experience worth jumping into.
Shoulders: We get to experience Lipscomb history, seeing us going to the tournament for the first time. It was really a special moment . . . I just witnessed history. This is something I'll tell my kids and grandkids for the rest of my life.
Jones: I desperately want our student body to be committed to supporting each other. And not just feel like different pockets that have their own small pocket of support. But that we are unified for something greater than ourselves.