While other schools delayed the return to in-person for remote learning, Lipscomb returned to school with an indoor mask mandate that has been extended from Jan. 21 to Feb. 7.
"Currently, our overall number of COVID-19 cases in the Lipscomb community remain fairly consistent. We also had a significant increase in the number of cases among faculty and staff this past week," Dr. Matt Paden, executive vice president, said in the email Thursday.
Positivity rates on campus have been increasing steadily since the start of 2022, and on Jan. 4, Lipscomb reached its highest rate so far.
According to the Campus COVID Statistics, more than 40 positive tests occurred on Jan. 18.
The majority of the positive tests were from students.
Maggie Bradford, a junior marketing major from Onekama, Michigan, is in quarantine after testing positive last Wednesday.
Bradford originally went into quarantine with her roommate in their dorm room Monday after showing symptoms.
After receiving her positive test results, she was moved to the quarantine floor Wednesday.
"I feel like it might go up a little bit more just because of how contagious the Omicron variant is and just with how many people are (together) all the time in class and things," Bradford said via Zoom.
"…With this [variant] especially, it's easy to have and not realize you're sick with it until you come down with symptoms. You can be contagious before you have symptoms."
Despite the cases on campus possibly going up, Bradford said Lipscomb has done a "good job" in keeping their students safe through protective efforts, such as encouraging students to wear masks.
The mask mandate requires students to their masks indoors.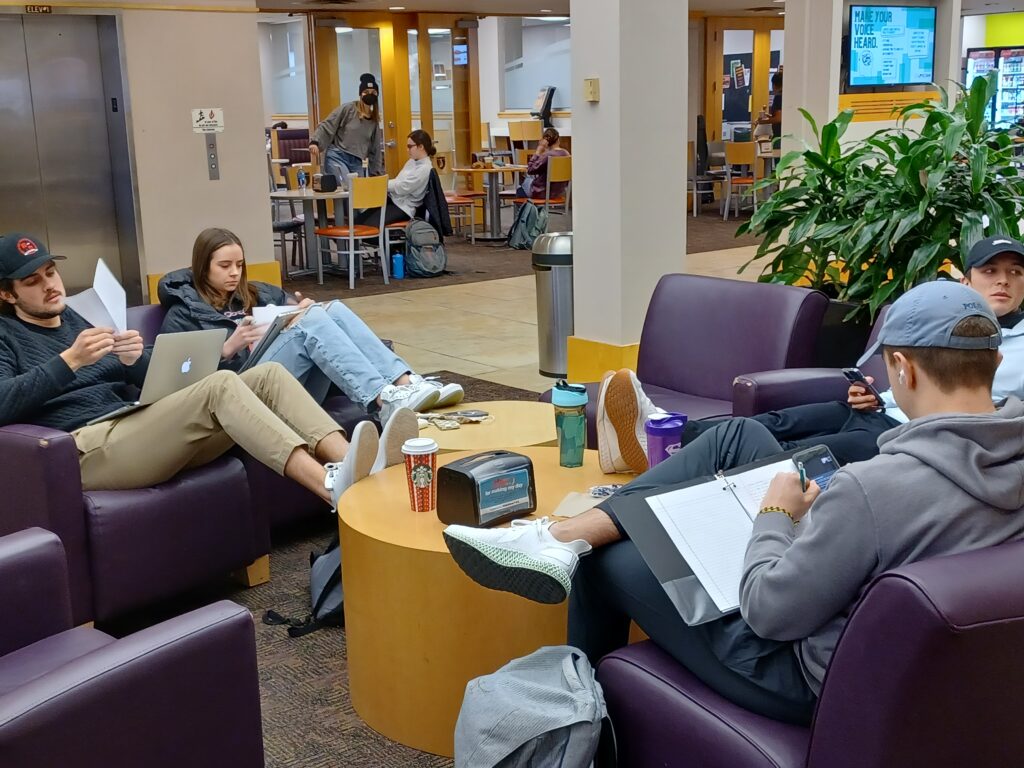 The only exceptions to this rule, according to the email sent by Paden, are when alone in a private office, dorm, or while actively eating and drinking.
However, Students have still been noticing a lack of mask-wearing on campus despite the mask mandate in place.
Students like Ben Massa, a Junior Theology and Ministry major from Murfreesboro, have noticed this.
"In classes, I see a lot of people wearing their masks but outside of classes, I don't see a lot of people wearing their masks," Massa said.
"Usually, they aren't wearing [masks],"
While Massa believes that the mandate will extend based on previous mask mandate extensions, he does believe that cases will eventually lessen.
"Just with so many people getting COVID, I feel like so many people are going to get natural immunity and stuff like that," Massa said.
Describing herself as a "hands-on" learner, Bradford was glad to return on campus with her classmates as opposed to a virtual format.
However, she doesn't rule out the possibility of returning to remote learning if cases on campus continue to increase.
"I'm hoping that we don't [return to remote learning] because I do prefer the in-person learning format, but If that's what has to happen, then I guess that's what has to happen," Bradford said.
Amidst the surge, Dr. Erin Keckley, director of Lipscomb University Health services and family nurse practitioner, is working along with her team to keep the campus safe and healthy.
"We definitely saw a very large surge [of COVID cases] when students returned to campus," Keckley said. "That was probably some of our highest numbers recorded that [Lipscomb] have had, which is also similar to what we had been seeing in the [Nashville] community as well right now with the increase of the surge of the newest variant."
On the same day of Lipscomb's highest rate of positive COVID tests, more than 3,000 Tennesseans were hospitalized with COVID-19, according to the Tennessee Department of Health.
To mitigate the spread of COVID, Keckley recommends wearing a mask, washing hands frequently and filling out the reported illness form on the health services site once a student feels sick.
This will reduce the chances of contracting not only COVID-19 but also flu and colds this season, she said.
"Hopefully, that will also be interpreted in less emergency department usage, hospitalizations, and less stress on the medical system as a whole," she said.
Keckley also highly encourages vaccination as another way to help lessen the spread of COVID-19.
With the amount of harmful misinformation and hesitancy surrounding the vaccine, Keckley says that Health Services are glad to answer any questions and concerns.
" Let's care for one another the best way that we can and right now, we know that the best way we can is to protect ourselves and others," Keckley said. "The best tool we have is to get vaccinated."
For more information on the Campus Health Center, visit Health Center | Lipscomb University