Lipscomb's basketball season wasn't supposed to turn out like this.
Not after rolling through the ASUN and taking the league's No. 1 seed. Not with five seniors, three of which are 1,000-point scorers. Not with the conference Player of the Year on its roster. Not with road victories at TCU, SMU and Liberty.
No, no, no. Absolutely not.
2019 was supposed to be Lipscomb's year. The Bisons were to be everyone's NCAA tournament darling – the team that was built to potentially ruin brackets. Every major bracketologist had Lipscomb in the field of 68.
But in sports, and especially in March, there are no guarantees. And that's exactly why we watch with such anticipation, even though there's always a chance for heartbreak.
And there was plenty of heartbreak to go around Sunday in Allen Arena, where Lipscomb dropped a 74-68 loss to Liberty in the ASUN championship. The Flames get to go dancing, the Bisons get to go to the NIT.
"It's disappointing," Lipscomb coach Casey Alexander said. "One of the hats you wear when you're the head coach…you're responsible for making a lot of people happy. Personally, I hate that we couldn't deliver the final result that would have kind of put the whole thing over the top."
The Flames earned it. They made shots when it mattered most, including Scottie James' go-ahead layup with 56 seconds left and a dagger three-pointer from Georgie Pacheco-Ortiz 40 seconds later.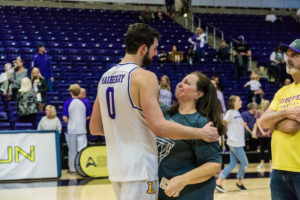 Meanwhile, Lipscomb's stars faded at the end. Mathews committed the turnover that led to James' layup and later missed a three-pointer with four ticks remaining.
Rob Marberry missed a layup and a fadeaway jumper in the final minute, before clanking a critical free throw that would have cut Liberty's lead to one with nine seconds left.
Neither senior will be defined by those plays. They've each helped take Lipscomb basketball to heights the program has never seen. The Bisons don't get anywhere close to 25 wins without them.
"It hurts bad," Mathews said of the loss. "But tomorrow will come, and we have to get ready for whatever comes next."
Look no further than last year's ASUN championship to understand that what goes around comes around. Florida Gulf Coast, led by the two-headed monster of Brandon Goodwin and Zach Johnson, was destined to be the league champ after winning the regular season title in 2018.
Instead, the Eagles lost at home to No. 2 Lipscomb and went to the NIT instead of the Big Dance.
Lipscomb's season is not over, technically speaking. But make no mistake, this team wasn't gunning for the NIT, better known as the Not in the Tournament tournament.
Perhaps the Bisons will play well in the NIT and make a run to Madison Square Garden. History tells us that senior-laden teams like Lipscomb usually aren't interested in the NIT, which is often won by young, hungry squads looking to cut their teeth in postseason basketball.
For their part, Alexander and his players did their best to seem excited about the NIT just minutes after realizing they fell short of their ultimate goal.
"That's more time with the guys I love, you know," Lipscomb junior Kenny Cooper said. "We're going to make the most of it, we're going to have fun with it and we're going to try to win some games in the NIT."
Alexander pointed to his team's focus and resiliency as reasons why Lipscomb could make a postseason run.
"One thing this team has done really well is to kind of live in the moment and stay on task with what's right in front of them," he said. "That's why we're here, that's why we had a great season. Surely we can do it one, or three, or five more times in the NIT."
Whether the Bisons add to their win total in the NIT or not is merely a postscript to the season, while an NCAA tournament berth would have been the highlight.
"We've got five seniors, and those guys have meant the world to this program," Alexander said. "Not seeing them get the ultimate reward of playing in the NCAA tournament is certainly hard. But from my perspective, zero regrets with those guys and this team and where we are right now. Disappointment, but not regret."
It's the best they can do at this point. That's the life of mid-major programs everywhere. One slip-up and dreams are dashed – just ask Campbell's Chris Clemons or South Dakota State's Mike Daum, 3,000-point scorers who will both miss the NCAA tournament after losing in their conference tournaments.
Lipscomb experienced the highest of highs against FGCU last season, and the lowest of lows against Liberty Sunday. That's how things go this time of year.
March basketball is simultaneously entertaining, joyous and heartbreaking. And that's exactly why we can't stop watching.
Even when it leaves us heartbroken.