Empty shelves and out-of-stock signs line the aisles of local supermarkets and stores after the coronavirus pandemic began hitting Tennessee hard, with numbers forecast to grow.
And that's not to mention special locations, like Friedman's Army Navy Outdoor Store on Hillsboro Road, where more-serious survival items are being scooped up.
At the grocery stores, items like hand sanitizer and water bottles are all but gone as soon as they are placed on shelves as consumers load up on the items when they take time from their self-quarantines.
Toilet paper is almost impossible to find, and in most grocery stores, the paper-goods aisle is either empty or contains a few scattered items.
At places like the Publix in Brentwood's Maryland Farms, kitchen sanitizing wipes are only in stock for moments, although customers now are limited to just two containers per visit.
"As the rise in the number of cases and deaths started happening in China, a lot of people started seeing the writing on the wall," says Nestor Ilagan, a sales associate at Friedman's.
Friedman's has been open in Hillsboro Village since 1972. Its combination of military surplus and outdoor recreation has made it a popular destination for the getting ready for their isolation.
However, Ilagan said that the recent spike in activity has been due to "panic preppers."
"'Preppers' typically will piecemeal their supplies together, get all that stuff over time," he said. "Then you get what we call 'panic preppers' — people who buy everything at once."
At one point, Friedman's carried pandemic preparedness kits, each containing hand sanitizer, respirators, masks and a pandemic information sheet. However, the kits have since completely sold out.
"We got a surplus of pandemic preparedness kits that were leftover from the SARS epidemic (which spiked in 2003)," Ilagan said. "The U.S. Department of Defense had put together these kits and stockpiled them, but they were never used. …We bought probably a little over 100 of them at a military surplus trade show and we started seeing those bought up at increasingly frequency."
Ilagan said dhas also noticed the popularity of emergency ration meals, the so-called MREs (meals ready to eat) used by the military. He attributes these sales to fears over a complete quarantine. The CDC recommends a self-quarantine of 14-days if you've been exposed to the virus.
"If you're stuck in your home for two weeks, what's the only reason you need to go out for? Food," he said. "Not a lot of people have shelf-stable food."
The fears over quarantines are driving sales at bulk wholesale stores like Costco, whose sales at the Nashville West location have gone up 62-100 percent in sales compared to last year.
"It's been very hectic; we've been having all our employees work full-time even if they're part-time," said manager Randy Heidlebaugh.
"Water has been the biggest seller, then toilet paper, baby wipes, diapers… we can't keep sanitizing wipes in stock" he said.
To combat the mass-purchasing of these items, Costco has taken to restrict the number of these big-selling items a member can purchase at a time.
Grocery stores like Kroger are feeling the impact of the virus as well; for shoppers like Sheila McCarty, the virus has put them on high alert and has made them more cautious when it comes to preventing the disease.
Photo by Grant Bricker
"I use the wipes when I walk in. I wipe down the cart, I wipe down my hands. When I go to the bathroom, I wash my hands very well," McCarty said. "When I picked up the chicken, I'm trying something. You don't know who's handled it, so I'm trying to be sure not to touch my after I handle things that I pick up off the shelf. Then when I leave, I will wipe my hands again with the wipes at the door."
Although most people have been mindful due to the recent outbreak of the virus, some shoppers believe that the coverage of the virus has been blown out of proportion due to the fact that it is far more deadly for the elderly.
Most shoppers are just lucky enough to find the cleaning supplies they need like Lysol, paper towels, and Kleenex.
Shopper Doris Hull shared what her experience has been like so far with the virus.
"I'm here looking for disinfectants for my house to just make sure my house is clean," Hull said. "It's real expensive and I'm surprised that the price is up. I think that they may have elevated the prices."
For Ilagan, it all boils down to people's desire to be ready for the worst-case-scenario.
"The psychology of prepping is more so the psychology of security, it's being able to take care of yourself and take care of your own"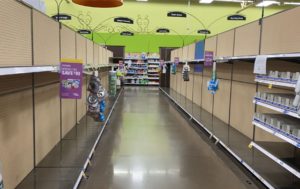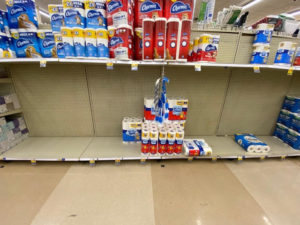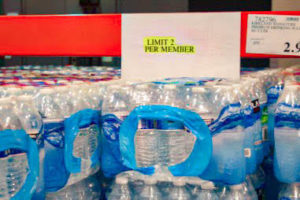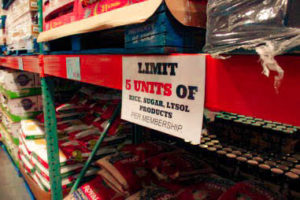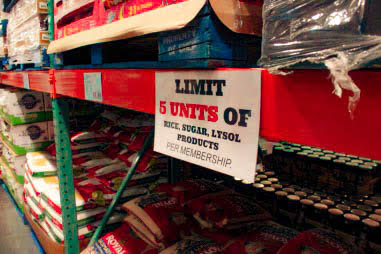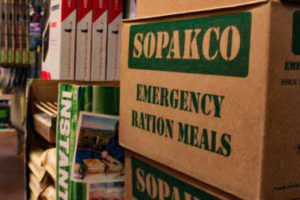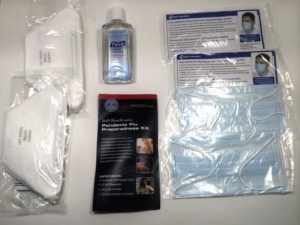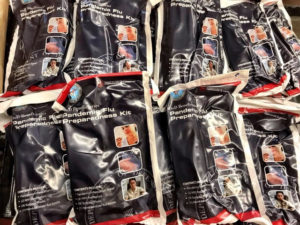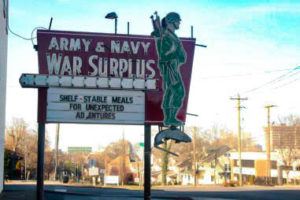 Photos provided by Friedman's Army Navy Outdoor Store.