It's actually here. I'm officially an alumna from Lipscomb as of Saturday, which means I've passed the Lumination "Editor" mantle on to a new leader.
I started serving as editor the summer after my freshman year. When I got started, I remember truly not knowing what to expect, but I also remember truly being excited about what the future held.
Now, Lumination Network will be getting a completely new editorial staff since Russell Vannozzi, one of our managing editors, and I have both graduated.
Our second managing editor, Spencer Boehme, is a rising junior, but he will be turning to primarily focus on Lumination Radio to serve as the radio sports director.
Rising junior Mckenzi Harris will be the new Editor-in-Chief, rising sophomore Kathryn Farris will be one of the managing editors and rising sophomore Erika Plunkett will also serve as a managing editor.
As we passed on Lumination to this new leadership team filled with three strong women, I have written this column to offer a few words of advice and to express my gratitude for being able to serve you by bringing the news to the Lipscomb campus.
Firstly, pay attention to your student news. Freedom of the press is important, no matter what scale or "level" that press is, whether it's student news or the New York Times. As a journalism geek, I have a mug with a quote on it by Thomas Jefferson that has resonated with me as I pursue a career in journalism:
"Our liberty depends on freedom of the press, and that cannot be limited without being lost."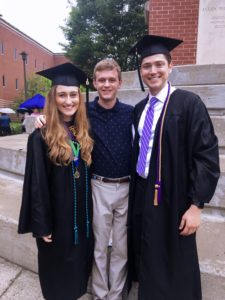 In today's political climate, journalism is often under attack. I will be the first to admit, journalists are not perfect. But we do have a big responsibility, and part of that is fairly and justly holding our political leaders accountable for their actions, no matter what their political stance/platform is.
Support journalists and their unbiased reporting before they are lost. Part of this support can be accomplished by not stifling the freedom of the press. For college students, part of this support can be accomplished by reading the student news network and staying informed about your campus and community.
Secondly, to students still at Lipscomb, I advise you to, if at all possible, be involved, be active and be dedicated. These four years go by so fast, and you get out of college what you put into it. And get involved early if you can. I jumped in to Lumination my freshman year hesitant and uncertain, but just taking that first step in to something can turn in to being one of your favorite things about college.
Thirdly, it's been a pleasure to bring you all the news for the last four years. I'm very thankful to all my professors and fellow Lumination staffers who have come through my life the past four years, many of whom turned out to be some of my best friends. Thinking back on college, many of my favorite college memories involve Lumination in some way.
The first memory that comes to mind is late nights turning in to very early mornings as we put together our award-winning multimedia packages for the Dove Awards. Next, these past two years of Lipscomb basketball have been incredible. From the team making the NCAA tournament for the first time to traveling to New York for the NIT Tournament to the hiring of two exciting new coaches, it's been a blast.
But also, despite all these wonderfully fun and amazing things, Lipscomb is not perfect, just like none of us are perfect. As journalists, accountability is part of our responsibility, and though, yes, sometimes it was hard, I loved seeing our Lumination team come together — understanding our responsibility — and reporting on the difficult stuff, too.
So that's all you'll be hearing from me on Lumination. Thanks for a great time.
And with that, I pass the baton to Mckenzi.