With Governor Bill Haslam's term ending only weeks away, activists across the country are strongly calling on him to take one last major act in office and grant clemency to Lipscomb graduate Cyntoia Brown.
In Nashville, Metro Council members voted Thursday to officially request Haslam to grant clemency to Brown. She was 16 years old when she was tried as an adult and convicted of first-degree murder and robbery.
In 2015, Brown graduated from Lipscomb with an associate degree through Lipscomb's LIFE program. Rob Touchstone, a Lipscomb professor who taught Brown, spoke to the Tennessean about his experiences with Cyntoia.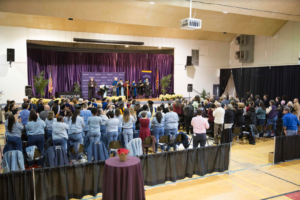 He told the Tennessean that Brown was "One of the best students I've had the blessing of teaching," and he believes Brown is "using this experience that none of us could even imagine to become a better person."
However, controversy surrounds her life sentencing in multiple ways. Some argue that human trafficking is what led Brown to commit the crime.
The defense argued that Brown was forced into prostitution after a life of abuse. In her testimony, Brown described being picked up by Johnny Mitchell Allen, a 43-year-old Nashville real estate agent. When the crime occurred, Brown said she believed he was reaching for a gun and intended to do her harm. Threatened for her safety, Brown shot and killed Allen in what she says was an act of self-defense.
"Robbery" is what solidified the prosecutor's case against Brown. After shooting Allen, Brown is reported to have stolen cash from his wallet. The prosecution used this to argue that the crime was a robbery rather than an act of self-defense.
Despite the controversies within the case, activists are questioning whether Brown's life sentencing is fair considering her age at the time of the crime.
In 2012, the Supreme Court ruled that mandatory life without parole sentences for juveniles violate Eighth Amendment prohibitions against cruel and unusual punishment.
They then ruled that the decision applied retroactively to individuals who had already been sentenced for crimes they committed as teens. The catch with Brown's case is that she will eventually be eligible for parole, but not until she's 67 years old.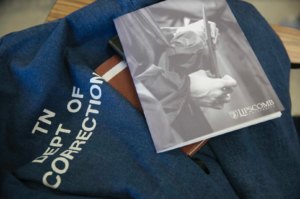 In the years since Brown's sentencing, a growing momentum of support for her has been seen in all corners of the world. Celebrities such as Rihanna and Kim Kardashian West have taken to social media to demand justice for Brown. Advocates started the hashtags #FreeCyntoiaBrown and #Clemency4Cyntoia to spread awareness of this case.
Haslam is expected to make a decision regarding Brown's clemency request before he leaves office on January 19.
Lumination reached out to Lipscomb President Randy Lowry for his thoughts on the matter, but the university declined to comment.
TN Prison for Women Commencement images courtesy of Lipscomb University