In recent months, the United States Postal Service has found itself becoming deeply politicized ahead of November's election.
Amid a global pandemic, the USPS is critical in order to handle the expected record number of mail-in ballots. Last month, United States President Donald Trump expressed opposition to funding an additional $25 billion in aid to the postal service, citing fears over fraud from mail-in voting.
Despite Washington battles, the bipartisan agency is still held in high regard with the public (a Pew Research survey in April found that 91% of Americans have a favorable view of the Postal Service). The USPS's critical role takes shape in communities across the country, including here on Lipscomb's campus.
"The post office is a vital part to keeping us connected," said Ronnie Farris, postmaster at the Lipscomb post office. Farris has been involved with the Lipscomb office for nearly 40 years, starting first as a student worker and evolving over time just as the postal service has.
"You know, it's just, it's changed so much…I always have been asking this question, 'what's next?' What is the next thing we need to be doing that we need to be aware of to serve our community?"
These changes took shape this spring when coronavirus concerns shut down the campus. "We never closed. We were here…we still had packages coming in, we still have mail going out there, all these other functions were still happening."
Similar to other campus institutions, the postal office adapted by installing plexiglass to pick up windows, enacting mandatory temperature checks for employees, and using a whole bunch of hand sanitizer.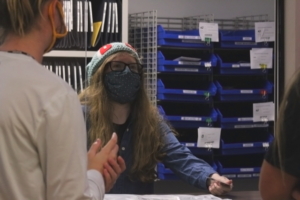 "What we're trying to do is train everyone in all areas as much as possible, to be flexible," Farris said. "We're working for the university and for the students."
Establishing and connecting with the community is a huge part of what the campus postal office does. "I've told Ronnie, a lot of times I said, you know, it really starts here," said Karen Tidwell, an assistant postmaster.
Tidwell got her start at Lipscomb's postal service after her kids attended Lipscomb schools from Elementary school till college.
"I put out fires, work with his students, and do just anything that needs to be done," Tidwell said.
One of the most popular parts of her work routine is bringing in her dog Murphy, known more commonly as Murphy the postal pup.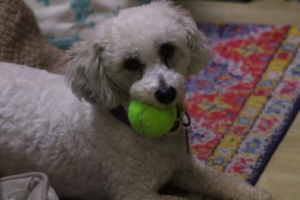 "The students, they'll come up and ring the bell and say 'Oh, I don't need anything. We just need to get a hug from Murphy today'… so you know, he brings a lot of smiles to a lot of people. And he just loves what he does," she said.
"If you really stop and think about could this campus work without a post office? Sure," said Tidwell. "Would it be hard? Yes. You have contracts coming through here, you have checks and money coming through here, students, you know, getting their happy mail from everybody. You have got to have a post office; you just have to have a post office."
The Lipscomb Postal Service operates Monday through Friday, 7:45 a.m. to 4:30 p.m. with pickups and drop-offs for USPS, UPS, and FedEx.