GREENSBORO, N.C – Road games simply don't bother the Lipscomb men's basketball team.
In front of a mostly-hostile Greensboro Coliseum crowd, the Bisons delivered a dominant performance in an 86-69 blowout of UNCG Saturday in the NIT.
The Bisons will play the winner of NC State-Harvard on Wednesday, March 27 in the tournament quarterfinals.
Lipscomb continued to add to its NCAA Division I-era road win record with its 13th of the season. The Bisons had 10 road wins last season, but they eclipsed that mark with an 87-75 victory over North Alabama on March 1.
"I don't know what it is," Lipscomb senior Garrison Mathews said of playing on the road. "It's a good feeling that we can come [play] in front of the great crowd that [UNCG] had and play well."
Mathews and fellow senior Rob Marberry were at their best against the Spartans. Marberry led the way with 24 points on 12-of-13 shooting, while Mathews produced a double-double with 23 points and 11 rebounds.
The Spartans jumped out to an early lead behind the hot hands of senior Francis Alonso and junior Isaiah Miller. But Lipscomb made 10 of its final 11 shots in the first half to take a 43-35 advantage into the break.
After Mathews made a three with 1:38 remaining in the first, the Bisons never relinquished their lead. Much of that run was thanks to crisp passing – including a long runner from Marberry to Nathan Moran to end the half with a layup and a 10-2 run. Lipscomb finished with 20 assists to UNCG's seven.
"Any time that we can get a bunch of assists like that and get the ball moving, it really helps our offense, gets the defense on their heels a lot of the time," Mathews said. "We've played against a few really good defensive teams, and the way we beat them is passing the ball really quickly and crisply."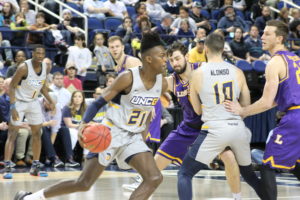 The second half included more of the same, and Lipscomb shot 50 percent on field goals for 43 more points in final 20 minutes. Mathews and Marberry both had 12-point second halves.
"I thought it was a high-level game," Lipscomb coach Casey Alexander said. "And I felt like the first half really showed that. Two good teams, kind of blow-for-blow and a lot of excitement and a lot of good plays. But when we got the margin, it changed a little bit."
UNCG junior James Dickey, the 2018 SoCon Defender of the Year, picked up two fouls in the early minutes and played just eight minutes in the first half. He was eventually called for three more fouls in the second half and exited the game with just two points and five rebounds.
Dickey's absence allowed Marberry space to go to work down low, and Lipscomb finished with 40 points in the paint.
"Because [Marberry] has got such great touch, he's going to make a high percentage of shots," Alexander said. "And then naturally [Dickey] getting two fouls early and not playing a lot of the first half allowed Rob to really get into rhythm and gain some confidence. It just kind of snowballed on [UNCG] from there."
Lipscomb guard Kenny Cooper also finished in double figures with 11 points, while redshirt freshman Ahsan Asadullah had eight. Alonso had 27 to lead UNCG, and Miller finished with 21.
Lipscomb will play the winner of NC State and Harvard in Wednesday's NIT quarterfinal.
The Wolfpack and Crimson are set to battle in Raleigh Sunday night at 6:30 p.m. CT. If NC State wins, the Bisons will travel back to North Carolina for a third time. But if Harvard pulls an upset, Lipscomb would get another home game.
"They're both going to be really good, it'll be a really tough game," Alexander said. "[I'm] just glad we're still playing in it."
Photos by author