JACKSONVILLE, Fla. – The Lipscomb men's basketball team has always been known for its offense, dating back to the Don Meyer NAIA days in the 1980s and 90s.
But this season, it's been the team's defense that has turned close games into blowouts. Lipscomb's 92-55 victory over North Florida Wednesday night was the team's largest margin of victory in its ASUN history.
"That's the most underrated part of our team," Lipscomb junior Michael Buckland said. "Our experience helps. We know the tendencies of our conference opponents. It's just executing scouting reports and going out there and playing."
KenPom.com ranks Lipscomb as the nation's 14th-best in adjusted defensive efficiency, or points allowed per 100 possessions. The Bisons have allowed just 66 points per game in ASUN play, and they've held four conference opponents to less than 60 points.
The adjusted defensive efficiency statistic is helpful for gauging the strength of the Lipscomb defense because its high-tempo offense affords opponents more possessions and opportunities to score. The Bisons ranked 316th in the country in adjusted defensive efficiency in 2014-15, but they have steadily climbed the rankings since.
"We're known for our offense, but people need to realize that we practice defense a ton," senior Garrison Mathews said. "If you look at the KenPom rankings and stuff, we've improved each year. It's been great."
The Bisons, who have a +2.8 turnover margin, play with intensity on defense and often force opponents out of their rhythm. North Florida committed 15 turnovers to Lipscomb's 10, and the Ospreys shot just 34 percent from the floor.
"Defense is so much effort and a willingness to do what you're supposed to do," Alexander said. "You've got to be unselfish to be a good defender, and you've got to have an unselfish team to be a good defensive team.
"Right now, our guys are playing really well together on that end."
North Florida woes a thing of the past
Entering Wednesday's game, Lipscomb had lost 14 of its previous 17 matchups with North Florida, including five in a row at UNF Arena.
"They've had some really good teams," Alexander said. On occasion, we played well and still lost here. Their body of work has been really good."
The Ospreys have haunted Lipscomb in recent years. They beat the Bisons three times in 2016-17 and ended Lipscomb's ASUN tournament run with a 91-85 upset in the semifinals that season.
"It's a sigh of relief," Buckland said of the win. "A lot of us were part of that team.
"We take that as a chip on our shoulder and we know what they've done to us in the past. We don't take anything for granted."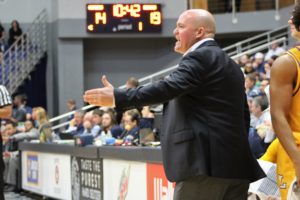 Alexander's misfortunes at UNF Arena date back even further.
While coaching at Belmont years ago, Alexander and the Bruins returned to the visitor locker room to go over final game preparations and found an intruder had stolen wallets and personal electronic devices.
"We walked back into the locker room at the 10-minute mark and there was a guy running out of the back door," he said. "He had taken off with some of our goods and we never got them back."
But the Bisons have now won the last three meetings after their latest blowout victory, which put the North Florida woes to rest for now.
Buckland catches fire against Ospreys
After going scoreless against Liberty and North Alabama, Buckland found his stroke from long range Wednesday. The 6-foot-5 guard went 5-of-5 on three-pointers to finish with a season-high 15 points.
"I just go out there and play my role to the best of my ability," he said. "If the ball comes my way, then I put it up. And I put in the work beforehand to make sure I'm confident in putting it up.
Alexander said Buckland plays whatever role asked of him. On a team full of scorers, that often means focusing on defense.
"A lot of what he does goes unnoticed," Alexander said. "He's our best overall defender and draws the toughest assignment every night. We don't ask him to do a lot offensively other than taking what's there."
Buckland is averaging six points per game and shooting 47 percent from the field, including 39 percent from beyond the arc.
Bracketology update
National media outlets have taken notice of Lipscomb's 10-0 start in ASUN play. Every major bracket expert currently has Lipscomb in the field of 64.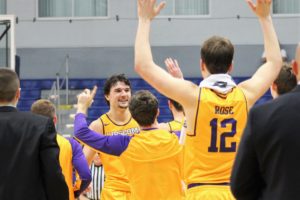 "We try not to look too much into all this attention that we're getting," Mathews said. "It's hard not to do that, but we really just need to come in every day and try to get better."
ESPN's Joe Lunardi lists the Bisons as a No. 11 seed playing seed Buffalo in Tulsa. CBS Sports expert Jerry Palm has Lipscomb as a No. 12 seed playing Purdue in Hartford.
SB Nation is especially high on Lipscomb, listing the team as a No. 9 seed playing Cincinnati in Jacksonville. USA Today also has the Bisons as a No. 11 seed pitted against Mississippi State in Des Moines.
Photos by author