Garrison Mathews shot 35 percent from three-point land his freshman and sophomore seasons at Lipscomb.
That clip is nothing to sneeze at, but Mathews wanted to do better. And it just so happened that a local trainer could help him get there.
"I didn't want to be a mid-30 percent shooter, or even a 30 percent shooter at all," Mathews said. "I wanted to be in the 40s – that was my goal for this year. I put a ton of work in, and I credit Jordan Romine for helping me with that."
Flash forward to this season, and Mathews is averaging 20.1 points per game and shooting 41 percent from three and 85 percent from the free-throw line. He also became Lipscomb's all-time leading scorer in January and was named ASUN Player of the Year earlier this month.
Part of that success is thanks to spending the last two summers working with Romine, a relative unknown in the basketball training world.
Romine played at Centennial High School and was later a student manager for the Middle Tennessee women's basketball team. He has since privately trained a few Blue Raiders, but Mathews is his poster child.
"I saw he had potential and thought I could help him if I could get my hands on him," Romine said.
The idea was sparked when Romine heard the Lipscomb-Tennessee basketball game on the radio in December 2016. Mathews, the younger brother of Romine's friend and former Franklin High School rival Braden Mathews, dropped 28 points and made five threes in a 92-77 loss to the Volunteers that day.
"I was like, 'that's Braden's little brother!'" Romine said. "I went and watched some Lipscomb games and took some notes, and then I sent [Garrison] a video of what I thought he could work on."
Mathews was impressed, and the two started working together closely in the summer of 2017. They focused on shooting off the dribble, the mid-range game and moving off screens, among other things.
On many mornings from May to August, Mathews and Romine could be found training at either Franklin High School or Lipscomb, depending on which gym was available. Some workouts started as early as 5 a.m. to fit around Romine's work schedule and Mathews' Lipscomb workouts.
"We go hard and then get out," Romine said. "We probably go for about 45 minutes to an hour-and-a-half, max."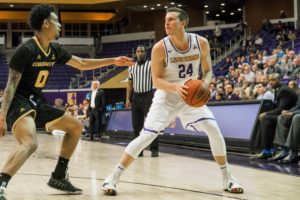 That high-intensity training has been beneficial for Mathews. Even as defenders have paid more attention to him, Mathews has found ways to get open and make difficult shots, often from several feet beyond the three-point line.
"He's always had great range and the ability to make shots, but his percentages have never been what they are right now," Lipscomb coach Casey Alexander said. "It was more of the threat of having six (three-point) makes a game than it was actually doing it. Now, he's shooting at such a high clip and a great percentage and taking tough shots."
There's no hype or fanfare surrounding Romine's workouts. And unlike other trainers, you won't see many viral clips from Romine on Twitter or Instagram.
"I try to make the workouts as game-like as possible," he said. "We don't do any fantasy stuff with cones and everything that you see on Instagram. It's all about getting game-like reps."
That mentality fits perfectly with Mathews, a low-key personality who is always quick to deflect credit for the stats and honors attached to his name. After being named the ASUN Player of the Year on March 4, Mathews said that he was happier Lipscomb earned the league's No. 1 seed and that the individual honor was just "a good feeling."
"It's crazy that he doesn't like the spotlight and all the attention," Romine said. "But he just puts in the work, and it has paid off."
Romine's day job is at Bingham Services, a professional consulting company for the property insurance industry. The firm is owned by Garrison's uncle, Mark Bingham, who Romine said is "very understanding" of his training schedule with Garrison.
The eventual goal for Romine is to become a college coach rather than a full-time basketball trainer.
"I'd really like to get into men's college coaching," he said. "I don't really have any interest in doing my own business. I'm like a sailboat – I'll go wherever it takes me."
He plans to continue working with Mathews to help him adapt "to the style of play he'll see on the next level." That opportunity could come in the NBA, the G League or even overseas.
"I think he'll definitely get a shot to prove himself at the NBA level," Romine said of the Lipscomb star. "He could fill a role as a shooter – I compare him to Marco Belinelli or JJ Reddick.
"He's not going to dribble a lot, but he'll come off screens, catch and shoot, and create separation by moving without the ball."
Photos courtesy of Jordan Romine and McKenzi Harris