Savannah Miller, remembered as a "sweet, loving" student in Lipscomb's IDEAL program died Saturday "following complications related to a medical procedure," said President Randy Lowry.
"It is with a heavy heart that I share with you the news of the loss … of Savannah Miller, a student in Lipscomb's IDEAL program, Lowry said in an email to the student body.
Miller was well-known for her positive attitude around campus and her internships with admissions and Student Life. She was a member of Phi Nu and a resident of Johnson Hall.
"Savannah was a sweet, loving, joyful, and caring friend," said Riley Hoag, also a student in the IDEAL program. "She was always there to help me out when I needed someone to talk to. She always put a smile on everyone's face during school."
Savannah could be easily found drinking a frappuccino in the Starbucks on campus, according to Hoag.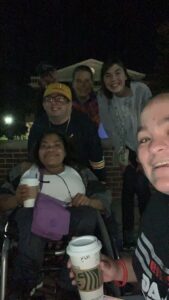 Grief sessions have been set up by the Office of Student Life as virtual Zoom calls. The links have been sent out to the student body and can be found here.
Lipscomb plans to have a memorial service on campus in the fall to honor her life. More details will be released on that when the details are finalized, according to the university.
Miller is survived by her mother, Renee Miller; her father, Bill Miller; three siblings, Shayna, Justin and Jacob; and her extended family. She was preceded in death by her brother, Garrett.
"What we are hearing over and over again in the hours following her death is that Savannah is clearly a young lady who will be missed because she made everyone around her better because of her positive attitude and love for life," Lowry wrote. "May God bless the Miller family and the Lipscomb community with a sense of his presence during this difficult time of loss."