Lipscomb's weekly COVID tracker indicates that seven of the 56 people tested last week by the campus health center were positive cases. None resulted in hospitalization.
The New York Times College Tracker reported Wednesday that Lipscomb has had 60 cases of COVID-19, though that number is a bit deceiving, according to a university spokesperson.
The Times had not contacted Lipscomb for its numbers, Kim Chaudoin, assistant vice president, public relations and communications, told Lumination Network.

"We do not have 60 active cases of COVID," Chaudoin said. "Because colleges report data differently, and because cases continued to emerge, even in the months when most campuses were closed, the Times is counting all reported cases since the start of the pandemic."
Chaudoin said she updates the campus COVID stats each Monday morning. The current page states that 37 Lipscomb students are in quarantine/isolation.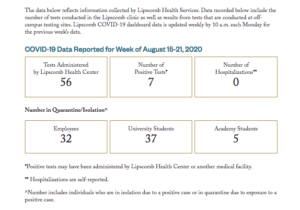 That figure does not refer to the number of positive COVID cases, Chaudoin said.
"Nor should the 37 number be construed to assume positive cases," she said. "It refers to the number of students in either isolation (they have tested positive) or quarantine (they have been exposed to someone who has tested positive)."
She added that the number of positive tests recorded each week is a combined total that includes academic and university employees and students.
Chaudoin said that of the Times' cumulative number of 60 positive cases, 48 of those were from March 25 through Aug. 8, and 31 of that number were outside vendors working on-site in May. The week of Aug. 8 had five positive cases; adding the current listing of seven brings the total to 60 since March.
Al Sturgeon, vice president of student life and dean of students, said in a recent email to students that Lipscomb is taking seriously COVID-19 regulations regarding groups.
"Please know that we will supervise and approve gatherings on campus according to our community standards," he wrote. "However, failing to comply with Lipscomb policies and/or local and state resolutions by hosting large, off-campus gatherings or parties is also subject to discipline with significant consequences that may include suspension or expulsion from the university."
Sturgeon said the university will use the following standard to define a large, off-campus gathering or party:
A gathering of over 25 people (note: attending religious services or ceremonies in accordance with applicable governmental standards are excepted); or
A gathering of 25 or fewer people if masks and proper physical distancing are not in use.
Simply attending an unauthorized large, off-campus gathering or party may be subject to discipline as well, Sturgeon said.
"In addition, student organizations, including social clubs, that host such unauthorized gatherings or parties will face significant consequences that may include suspension or deactivation," Sturgeon said.
All of the above guidelines are specified in the 2020 student handbook, student code of conduct, as well as the plan for return to campus, sent out this summer.