Lennie Acuff once wanted to play basketball for Lipscomb, but he admitted that he "wasn't good enough" for Don Meyer's legendary NAIA teams.
Instead, the longtime Alabama-Huntsville skipper now gets his chance to coach the Bisons.
Lipscomb officially introduced Acuff as its next head coach Wednesday, beginning a new era for a program that is coming off one of its most successful seasons – a year that ended one victory short of an NIT championship.
But Acuff was familiar with the Bisons long before they joined the NCAA Division I ranks. He attended Lipscomb basketball summer camps as a kid, and he continued to learn from Meyer as an adult, even visiting his house on at least one occasion.
"I think it's important that everybody knows that I understand what Lipscomb basketball is about," he said. "[Two] of the guys on my high school team played on the [1986] national championship team – Anthony Jones and Bob Ford.
"I would've loved to have been a Bison. [Coach Meyer] was the best teacher the game has ever had. I cannot tell you how much he taught me, how much I learned from him and the level of respect I have for what he built here."
Acuff seems like a natural fit for the Bisons. He's down to earth, family-oriented and speaks with a Southern drawl. He's also bald, just like Meyer and Casey Alexander – arguably the two best coaches in Lipscomb's history.
But, perhaps most importantly, Acuff has the basketball resume to keep the Lipscomb program on an upward trajectory. His track record at UAH, which includes 437 wins, 11 NCAA DII tournament trips and eight Gulf South Conference Coach of the Year awards, speaks for itself.
"Anybody who knows basketball is really excited about Lennie being here," Lipscomb athletic director Philip Hutcheson said. "He's so well respected in the coaching community, and really obviously in Alabama."
Acuff also spoke at length about his family during his remarks in front of dozens of Lipscomb supporters. His son, Will, plays baseball at UAH, while his daughter, Molly, attends Auburn.
He went on to praise his parents and siblings, too. But his wife got the biggest applause, because she has something in common with the Lipscomb fanbase.
"She's great, you guys will love her," Acuff said. "[And] she likes to win."
That family-first attitude is one that will work well at Lipscomb, a place known for its tight-knit community. But Acuff and his family aren't just here to make friends – they also want to win games.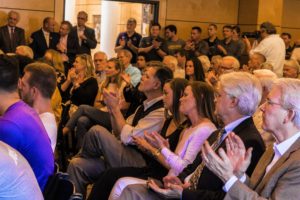 "I think he'll fit right in," sophomore guard Greg Jones said. "Especially with how his values are and what his goals are. I think everybody here is gonna embrace him, and they're gonna embrace us."
Acuff has work to do to keep Lipscomb trending in the right direction. Along with the departure of coach Casey Alexander to Belmont and Kenny Cooper's transfer to Western Kentucky, the Bisons lose 6,803 career points in graduating seniors Garrison Mathews, Rob Marberry, Matt Rose, Nathan Moran and Eli Pepper.
"This is not the jumping-off point, it's the jumping-on point," Acuff said. "We're losing a lot of players. There's no secrets to that. But the biggest thing is we're committed to the eight or nine guys that are gonna be back. And that's where we'll start."
As far as first impressions go, Acuff knocked it out of the park. He drew laughter and applause at his opening press conference. He brings stability to a program that has experienced heavy turnover. And he can back everything up with 554 career wins in 29 seasons of coaching.
That adds up to what looks to be a happy marriage with Lipscomb.
"I think the most powerful words you can ever tell anyone is 'I believe in you,'" Acuff said. "And that's what [Lipscomb] has told me, and I take that job very, very seriously. I will do everything I can to not let you guys down."
Photos by McKenzi Harris